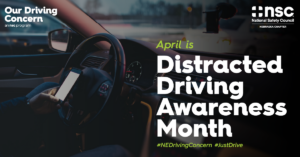 Since 2011, 119 Nebraskan's have been killed on our roads due to some form of distraction. In 2020 alone, Nebraska saw 13 fatalities, 1279 injuries and 2622 cases of property damage related to some sort of driver distraction.
Join us this month as we highlight the many causes of distracted driving, what your organization can do to prevent it, and how you can spread the word that when you're behind the wheel, your only job is to drive.
---
Ways Your Organization Can Participate:
Take NSC's Just Drive Pledge to Avoid Distracted Driving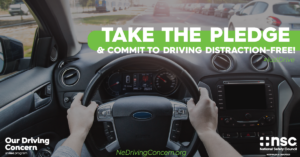 There's no shortage of distractions fighting for your attention behind the wheel, but the NSC Just Drive pledge breaks this danger down and offers a simple solution:
I will make our roads safer for everyone by avoiding all forms of distracted driving
I will speak up when others are distracted to protect myself and all other road users
---
Show Your Safe Driving Pride!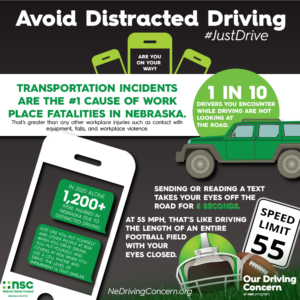 Our Distracted Driving Awareness Month digital social media kit is designed to help you and your team show your commitment to safe driving. Create your own posts or use the images, and post suggestions to share on all of your channels. Be sure to use #NEDrivingConcern and #JustDrive so we can engage with you!
---
Enact or Update a Safe Driving Policy for Your Workers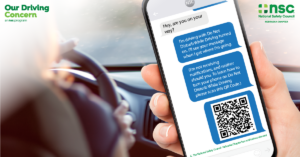 During Distracted Driving Awareness Month, enact or update a Safe Driving Policy in your workplace with our policy template and guide. Don't forget to check out the entire toolkit, which can help you share information with your leadership team to encourage the adoption of a Safe Driving policy to keep your team safe.
---
Schedule A FREE Presentation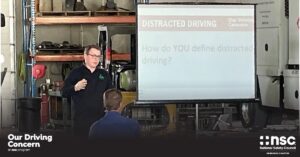 Our Driving Concern works with employers, schools, and organizations in Nebraska to promote safe driving practices on and off the job by providing safety, risk, and HR professionals with tools to build a company-wide transportation safety program. This presentation covers topics such as impairment, seat belt use, aggressive, distracted and drowsy driving & how we can improve!
Give us a call or shoot us an e-mail to schedule a free traffic safety presentation!
hromig@safenebraska.org or 402-898-7368.