Since 2011, Nebraska has seen a total of 2,232 fatality crashes of which 466 (21%) involved large trucks (>10,000lbs) (NHTSA, 2022). By the end of 2021 in Nebraska, rural highways significantly took more lives than any other roadway (see below, NDOT, 2021).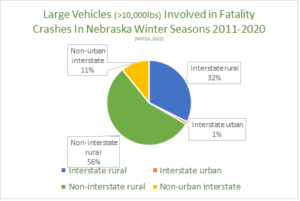 These rural roads are more likely to have narrow lanes, limited shoulders, sharp curves, exposed hazards, pavement drop-offs, and lack up-to-date maintenance. Have those safety conversations with your employee's about Non-interstate rural roads such as state highways to give them that extra heads up the next time they are out!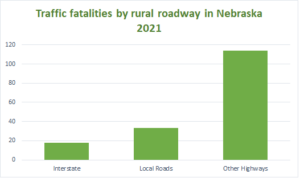 Reminder, Winter Weather's in full swing: The roads can be a bit dicey for traveling to see our family & friends. Continue to stress the importance of driving in winter conditions to your teams…
Be Prepared – Travel with extra warm clothing, ice scraper, blankets! You never know what could happen in Nebraska during the winter months.
Slow Down – Ice and snow may be present on the roads that can cause skidding
Increase following distance – Increase to 8-10 seconds to allow for extra breaking distance in case of skidding or sliding.
Skidding – If you begin to skid, steer in the direction of the skid. This helps your wheels regain traction and avoids over correcting.
Supplies – Shovel, Jumper Cables, and Cat Litter are great items to jump a car battery, dig out of snow, and provide traction.
Maps – Use that technology! Choose routes that avoid traffic congestions and avoid routes that present large hills
PAY ATTENTION!  – 1 in 10 drivers you meet on the roads in Nebraska are not looking at the road but instead focused on a cell phone or electronic device (NDOT, January 2023). Visit NeDrivingConcern.org/do-not-disturb/ to set up your "do not disturb" mode on your phones to eliminate incoming calls & text messages while driving!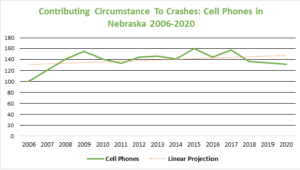 SAFETY MEETING TOPIC…?
Invite our Health Educator out to your location/Virtually for free traffic safety presentations
Hayden Romig
402.898.7368